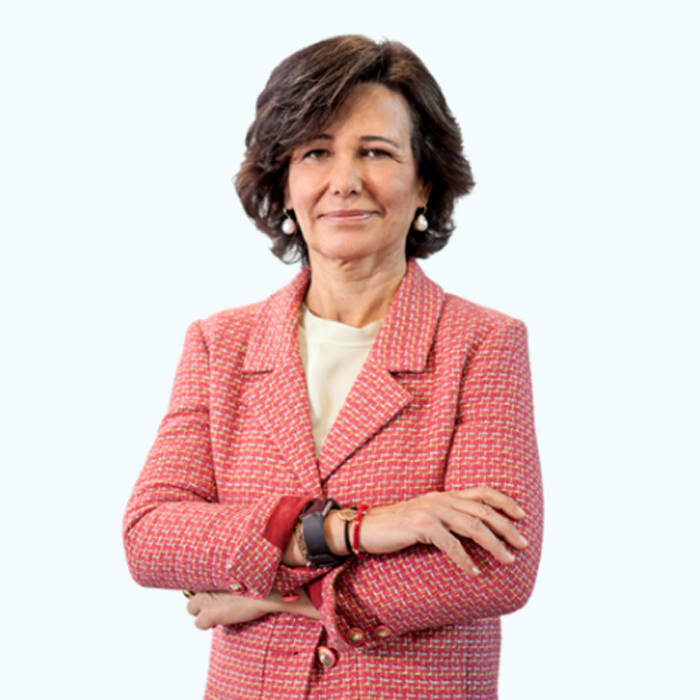 Ana Botín
Executive Chairman of Banco Santander, S.A.
Ana Botín is the Executive Chairman of Banco Santander, S.A., the parent bank of Grupo Santander, and has held this position since September 2014. Today Santander Group S.A. is one of the most profitable and efficient banks in the world, serving over 142 million customers across Europe and the Americas with a top three ranking for customers satisfaction in the majority of its markets.
Ms. Botín has served as a director of Banco Santander, S.A. since 1989 and currently chairs the Executive and Innovation and Technology Committees and is a member of the Responsible Banking, Sustainability and Culture Committee. She is an executive director of both Santander US (SHUSA and SBNA) and Santander UK boards. She is a member of the SHUSA Nominations and Executive Committees.
She joined Banco Santander after working at JP Morgan. In 1992 she was appointed Senior Executive Vice President. Between 1992 and 1998 she led the expansion of Santander in Latin America. From 2002 to 2010 she was Executive Chairman of Banco Español de Credito, S.A. (Banesto), which was commended as the Best Bank in Spain by Euromoney for three consecutive years during that period. From 2010-2014 she was CEO of Santander UK plc and currently serves as a Non-Executive Director. During her role as CEO of Santander UK plc, she led the transformation to one of Britain's most innovative banks.
In 2019 Santander was ranked first in the world among banks in the Dow Jones Sustainability Index and Ana's commitment to sustainable and inclusive growth is reflected in her philanthropic activities. She is the founder and Chair of CyD Foundation, which supports and promotes the contribution made by Spanish universities to economic and social development in the country, and Fundación Empieza por Educar, the Spanish subsidiary of the global NGO Teach for All which trains talented young graduates to be teachers. Ms. Botín is also the founder and Vice Chair of Fundación Empresa y Crecimiento, which finances small and medium sized companies in Latin America.
Ms. Botín is a Board Member of the Coca-Cola Company and sits on the Advisory Board of the Massachusetts Institute of Technology.
Ms. Botín graduated from Bryn Mawr College.